Posts contain affiliate links where I earn a small amount commission on purchases through links.
I am often left feeling bad that I am feeding, consoling or otherwise giving attention to Ava while ignoring Ryan.  Ryan can be high energy but he also will concentrate on something if he is into it.  A friend gave me the idea for an easy activity with pipe cleaners and a colander.  All I did was turn the colander upside down, hand him the pipe cleaners and bam!  30 minutes of total concentration and practice of hand eye coordination!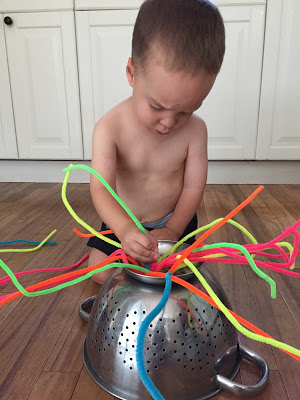 I see a future engineer at work!