Posts contain affiliate links where I earn a small amount commission on purchases through links.
Oh man, I am SO behind on getting this fix up AND I am missing pictures so no pretty clothing stack picture today!  I have been SUPER busy with my Facebook group Daily Deals by Pink Rose Mama (feel free to click on the link and join the fun!) and honestly blogging and Stitch Fix have kind of fallen off.

But I am getting back into it, I promise!  Let's just jump right into my April fix!  I asked for a shirt only fix.  I was looking for shirts to transition into the spring that would be good for a stay at home mom but that could also function as a date night top.  My stylist, Lisa, sure did deliver and it has been really fun to see her "get" my style as my time with Stitch Fix has gone on.

Here we go….

Skies are Blue Keiko Crochet Neckline Knit Top–  I had Pinned this on my Stitch Fix Pinterest board and was excited to get it.  Unfortunately, when I tried it on I though it did nothing for me.  The color was awesome but the shape just kind of fell short.


Dex Ramuz Lace Back Blouse-  This was another selection that Lisa found on my Pinterest.  Again, I was thrilled to get it.  It is sheer and has really funky elements that take me out of my comfort zone.  The front has a zipper all the way down and the back has top to bottom lace down the middle.  It would be great for a date night or girls' night out! 
Do you love my photobomber?!
Skies are Blue Joslyn Keyhole Top-  This one I was NOT excited to take out of the box.  It just seemed plain and like the million things I already own.  However, I tried it on and fell in LOVE with the color.  I wore it around, debating back and forth.  Still, cost is a factor with doing Stitch Fix and it is getting warm out so I started to question how much use I would get out of it.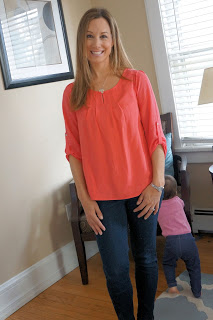 Loveappella Lolla 3/4 Sleeve Woven Back Knit Top- Ok, spoiler alert: LOVE!!  Love, love, love this one!  It is exactly what I was looking for.  Simple enough to pair with leggings and play with my kids but interesting enough that I look stylish at preschool drop off!  Plus, it is comfy.  Oh, SO comfy! Lisa hit it out of the park with this one and it is already a staple in my wardrobe.
Daniel Rainn Yaya Embroidered Detail Top-  When I was debating what to keep and send back, this was one that my friends and I saw differently.  They all said "for sure keep!" while I was more undecided.  The fit and material are gorgeous but something about it just is not my style.  
There you have it!  My April Stitch Fix is in the books!  Although it was a 2/5, I thoroughly enjoyed seeing what Lisa had in store for me and I cannot wait for my next box!  I hope you enjoyed it and I hope to see you all on my deal page getting some good deals in between fixes!
Not familiar with Stitch Fix?  Here's how it works… 
You receive 5 items picked by a personal stylist based on a style profile you complete and Pinterest style board. You keep what you want and return the pieces you don't.  It is $20 to try it, but if you buy something they apply the $20 to your order. It is not a subscription service- you can schedule boxes whenever you want or you can sign up to get them automatically delivered monthly. If you want to try it (warning: you may become obsessed like me!), use my referral link and we will be best friends!