Posts contain affiliate links where I earn a small amount commission on purchases through links.
My friends raved about Stitch Fix for at least a year and a half.  Every time they would talk about, my eyes would glaze over and I would disregard what they were saying.  2 months postpartum, I was in a serious mom rut and decided to take the plunge and go for it!

How Stitch Fix works is you fill out a style profile and make a Pinterest board with styles you like.  A stylist then picks out 5 pieces of clothing you for based on your board and profile.  It is $20 to try but if you purchase an item, the $20 gets applied to that purchase.  Soooo….essentially it doesn't cost anything to try!  You also get 25% off for keeping all 5 items.

Here is what I got!

Corina Dolman Top–  Loved this one! I was surprised at how soft the material was!  I have a ton of grey in my wardrobe already but I love the style and fit!
Verdict: Kept!
Omar Crochet Bib Top– I LOVE the color on this one!  It is a basic tank that has lace detail at the top.  I think it is perfect for a date night!
Verdict: Kept!


Pixley Scarlet Lace Dress– I asked for a casual dress for our upcoming beach vacation. When I put it on, I wanted to love this dress so much more than I did.  I love the color and lace detail but I felt like the fit was off and it didn't do anything for me. Plus, it is impossible to breastfeed in and I have nowhere to wear it.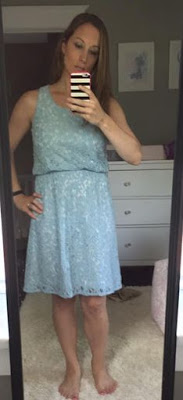 Verdict: Sent back
Skies are Blue Caine Open Cardigan- When I initially saw this one, I thought I would hate it. However, I ended up loving how soft and comfortable it is.  I envision wearing it with jeans and boots in the early fall. It is so different and out of my comfort zone but I guess that is what Stitch Fix is all about!
Verdict:
Kept
!
Look by M Neva Colorblock Scarf–  This scarf is super soft and I like the design.  Still, it is not totally my style and I couldn't justify keeping it for the price.
Verdict: Sent back
Overall, I had a blast with my first Stitch Fix box.  I was like a kid at Christmas waiting for my box to arrive!  I have already scheduled my next shipment!

Want to try Stitch Fix?  Use my referral link and we will be best friends!