Posts contain affiliate links where I earn a small amount commission on purchases through links.
Between our renovation, crazy work schedule and school obligations I think it is safe to say everyone in our family needed a B.R.E.A.K. We are not too far from the Poconos so we decided to take a mini-vacation to Kalahari Resort overnight! I love traveling, even if it is just a stay-cation at a nearby hotel, because you are able to disconnect from all the outside stress and chores. Here is a little review of our stay and a must have packing list for visiting the resort!
Check-in isn't until mid-afternoon but if you arrive early, you are able to use the water park starting at 10am! We arrived around 11am on a Friday and our room was ready, which was great. We booked a standard Desert room and it was really all we needed- it was large with 2 queen beds as well as a pull out couch, fridge, microwave, coffee maker and a great sized tub for the kids after the water park! Of course, my kids decided they wanted to bunk up together in the "bed that transforms" but on vacation we say "anything goes" and they loved it!
The water park itself is HUGE. I knew that it was going to be big but it is massive. Kids under 48in must wear life vests so we prepared my older one for this even though he can swim. My kids really enjoyed the wave pool and kiddie water slides. The only negative was it was a bit chilly but I guess that can be expected since it was February in 5 degree weather. My kids didn't have much interest in the super big slides so we mainly stayed in the kiddies area and took a nice tube ride on the lazy river.
We ate at the Burger place right off the lobby which was surprisingly really good! My husband and I split truffle fries and wings while the kids had pizza. We finished it off with some ice cream.
My kids loved the arcade area just as much as the water park. They especially loved bowling. Your money doesn't go too far in the arcade so we walked around then convinced them to people watch in the lobby after awhile.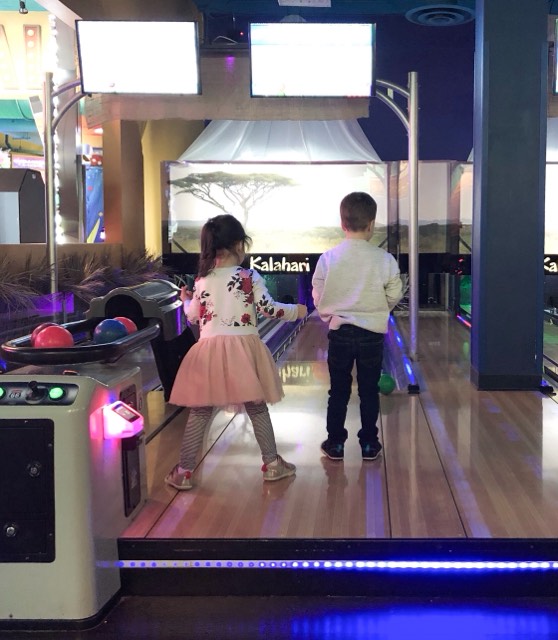 The next day we ate breakfast in our room (I packed cereal, milk, bowls and spoons) . We had use of the water park all day even after check out. There are showers and I noticed that a lot of the cabana rentals were occupied by people with luggage. I think an overnight stay was the perfect amount of time for us and we will definitely be returning.
Here are some must have items to pack when visiting Kalahari:
Bring your own towels! They have them at the water park but they are thin and small
Water shoes or flip flops for walking back to the room
Wet bag to put wet swim suits in for the drive home
Puddle Jumpers if your kids use them (remember under 48in needs a life vest- they have plenty there but we brought my daughter's puddle jumper since she is comfortable in it)
Goggles
Waterproof phone case
Snacks/breakfast food
If you are thinking about going, keep an eye out for deals- I saw a bunch of their locations on sale HERE! My kids are still talking about it and we cannot wait to return! Thanks Kalahari for a great mini-vacation and some great memories!