Posts contain affiliate links where I earn a small amount commission on purchases through links.
I originally started this blog to document my new life as a stay at home mom.  I was excited yet nervous and wanted to make sure that I had something to look back on.  Somehow, it has morphed into this awesome project that lets me share things I do with my kids, for my home and sometimes for myself (ahem, Stitch Fix). Rarely do I post sentimental things or my feelings but I feel like I have to because I am still on cloud 9!
Halloween was yesterday.  Since Ryan is 2.5, I figured this may be my last chance to decide on a theme for him and Ava so a fireman and a dalmatian it was!  I found the cutest dalmation outfit and fireman raincoat on Amazon. Ryan was absolutely thrilled to put it on.  Not exactly.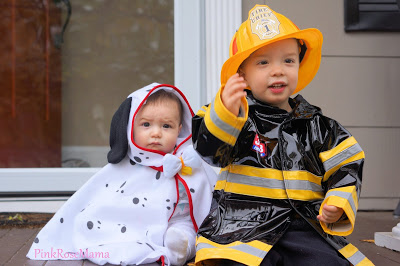 As 2 year olds do, he pouted as I took obligatory pictures of the kids on the steps.  I got this adorable picture only because the mailman was walking by and I convinced Ry to show him his hat. Ava just looked perplexed as to why I was putting her in this ridiculous outfit.  It had ears!  I melt!
Apparently there is something about getting candy from random houses that entices 2 year olds to wear whatever for the cause.  Ryan donned his outfit and went sprinting to the first house.  My normally shy guy was saying trick or treat and thanking people for candy like it was no big deal.  After each house, he would excitedly bound towards my husband shouting some variation of "I said trick or treat!  I got candy!" as he took off toward his next house.  My heart melted just watching the sheer joy on his face.
Admittedly, for as long as I can remember, I have wanted to be at that next stage in life.  I always look for the light at the end of whatever craziness is going on at the moment because I am sure better things are ahead. 
However, possibly for the first time in my life, I am exactly where I want to be.  Seeing my child experience his first real trick or treat was something I will remember forever.  Sure there are tantrums, sleepless nights and lots of tears but Halloween was a reminder that all too soon, I won't have that excited little boy running toward me to show me a piece of candy.  Motherhood has done so many things for me but it has really caused me to realize that I need to enjoy every day because all too soon, these are the days I will miss.